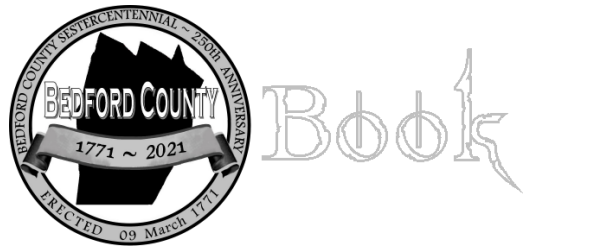 Bedford County, Pennsylvania ~ Two and One-Half Centuries in the Making
About the book
A book devoted to the history of the entire County of Bedford, Pennsylvania is nearly ready for publication by the Bedford County Historical Society. Copies (to be presented in sets of two bound volumes) will be available for distribution prior to Christmas, 2020.
The book consisting of over 1,000 pages is the first history of the entire county to be published since 1906. But unlike the 1906 volume by E. Howard Blackburn, which was basically a reprint of the 1884 volume published by Waterman, Watkins & Company, this new history is comprised of fully footnoted original text. Maps detailing the evolution of the county's townships were created specifically for the book.
The Price
Bedford County, Pennsylvania ~ Two and One-Half Centuries in the Making will be sold at the price of $120/non-member (plus $7.20 sales tax if you are a resident of Pennsylvania) ~or~ $115/member (plus $6.90 sales tax if you are a resident of Pennsylvania). If you pick up your copy at the Bedford County Historical Society at 6441 Lincoln Highway there will be no additional cost for shipping. If you need to have it delivered to you by the U.S. Postal Service, an additional $10 (media rate) will need to be added.
         Member:   $115  +  $6.90 tax  =  $121.90
Non-Member:   $120  +  $7.20 tax  =  $127.20
How to Order
Pre-publication orders can be made by mail request (check or money order included) or by personally visiting the BCHS at 6441 Lincoln Highway, Bedford, PA 15522 or online at bedfordpahistory.com .