The 1907 Old Home Week
In 1907 Bedford County celebrated what it called Old Home Week. The year 1907 was 149 years after the Forbes Campaign and the construction of Fort Bedford in 1758. Whether the 149th anniversary of the construction of Fort Bedford was the impetus to hold a celebration is not known. It is possible that the impending 150th Anniversary of Fort Bedford was simply coincidental.
As the archway in the photo below indicates, the celebration was intended to welcome people back to their 'native' hills.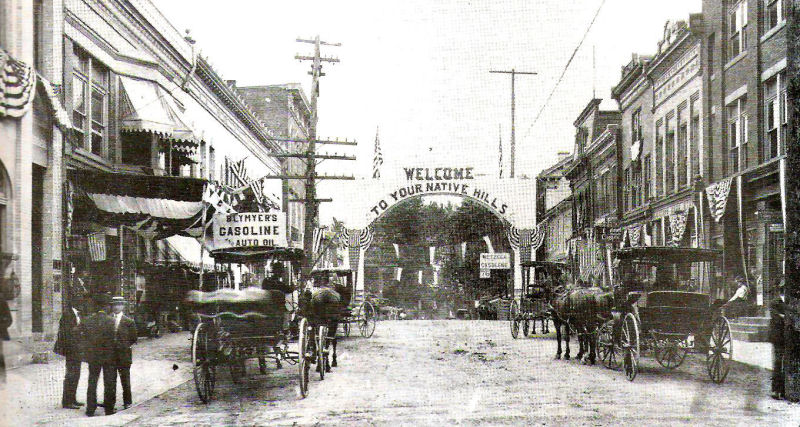 As the souvenir book noted: "Bedford's Old Home Week is a matter of history. During the days of the celebration there were more of the absent sons and daughters of the old county and still older town here than ever before assembled within the confines of the ancient borough. Men and women, now far advanced in years, who spent their childhood amid Bedford's beautiful hills, returned after an absence of as many as forty years to participate in the festivities of the week; to greet again those with whom they played, and swam, and hunted, and fished ~ those beside whom they sat in school while they were receiving the foundations upon which many of them have since built magnificent intellectual structures. Many and pleasant were the acquaintances made but still more pleasant were the acquaintances renewed."
The souvenir book produced to commemorate the event included the pictures below of various floats in the parade. The first photo is of the engine used by Bedford Fire Department #1. The next photo shows the Hook and Ladder Wagon and its crew. The third photo shows the wagon of J. L. McLaughlin & Son's Handle Factory. The fourth photo shows the float of the DeLaval Separator Company.The last photo shows a wagon promoting J. S. Corle's Variety Store.