Sestercentennial Banquet
November 13 ~ 6:00pm to 8:00pm
CANCELLED
Slick's Ivy Stone Restaurant ~ Osterburg
The 250th Anniversary will come to a close with a grand Sestercentennial Banquet.
Formal Dress required.
Closing Ceremony for the Sestercentennial.
Entertainment will be provided by the barbershop quartet, Vocal Boom.
   Cost: $40 per person.
      Tickets will be available at the Bedford County Historical Society.
         6441 Lincoln Highway, Bedford, PA 15522.
         (814) 623-2011
         email: bedfordhistory@embarqmail.com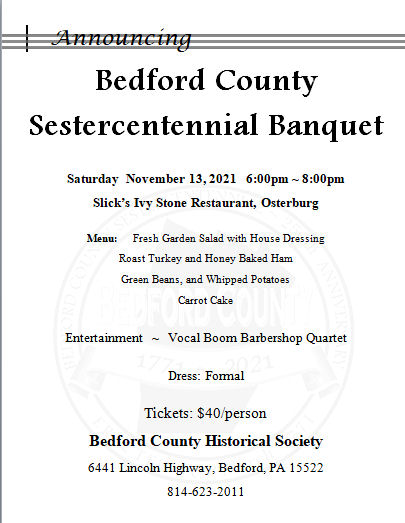 Click on this logo to return to the Calendar page.